Congressional Lobby Day 2004
Medicare reimbursement campaign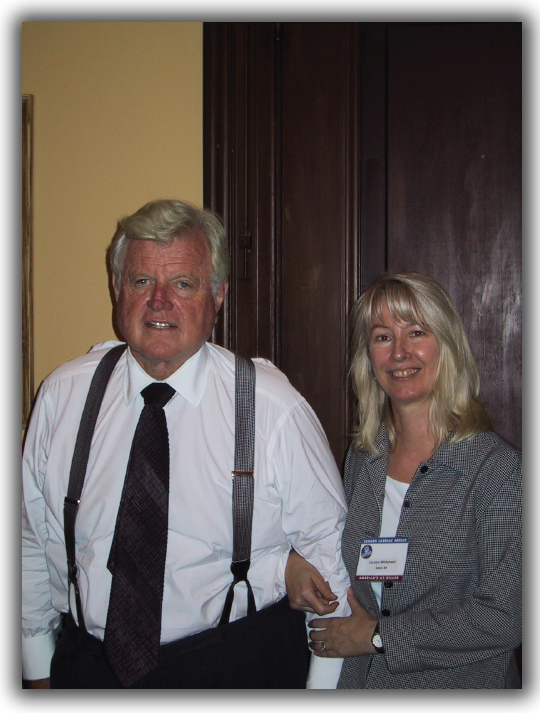 Carolyn & I were effective in lobbying our Senators and Representatives in their offices on Capital Hill. Tens of thousands of heart patients now receive treatment previously denied, as a result of congressional support to expand the coverage of ICD reimbursement by CMS (Centers for Medicare & Medicaid Services).
EMS Today
Over 4,500 EMS professionals gathered in Baltimore for the annual EMS Today event, a Journal of Emergency Medical Services (JEMS) Conference & Exposition focusing on life saving training and equipment. It was the largest attendance in event history. Carolyn & I participated as guests for the Sudden Cardiac Arrest Foundation, and gave away a Cardiac Science AED (automatic external defibrillator) in a prize draw. We also witnessed an automatic CPR device, called AutoPulse, that can perform Cardio-Pulmonary Resuscitation better than humans!

Rhythm 2008 - coming to San Francisco in May
The Heart Rhythm society, an organization of heart rhythm professionals (Electrophysiologists), is holding the premier conference on cardiac arrhythmias , including the VT/VF Summit, outlining the latest advances in the diagnosis and management of patients with Sudden Cardiac Arrest.
ECCU - June 2008
The Emergency Cardiovascular Care Update conference will be in Las Vegas, gathering the leaders in CPR and the "chain of survival". It continues the tradition, started in the 1980s, of the Citizen CR foundation.